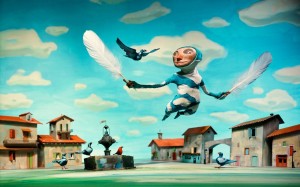 1. Why does a business owner stick pigheadedly to advertising that doesn't create a viable return on investment? Why won't he leave a service club or networking club which he joined to get more business, in spite of the fact that he has never got any business from it for years? This could be explained by…
The Sunk Cost Fallacy
The Misconception: You make rational decisions based on the future value of objects, investments and experiences.
The Truth: Your decisions are tainted by the emotional investments you accumulate, and the more you invest in something the harder it becomes to abandon it.
2. I had a client whose brother ran one of the branches of his business and was stealing him dry. His wife and everyone else knew it, but my client refuse to believe it. I suggested he place video cameras around his businesses, but he adamantly refused. Why? Perhaps because of…
The Backfire Effect
The Misconception: When your beliefs are challenged with facts, you alter your opinions and incorporate the new information into your thinking.
The Truth: When your deepest convictions are challenged by contradictory evidence, your beliefs get stronger.
3. Ever see the "Soup Nazi" on Seinfeld? Why is it that people tend to like those who teat them badly and whom they help, and justify hurting those customers they shouldn't? I could be…
The Benjamin Franklin Effect
The Misconception: You do nice things for the people you like and bad things to the people you hate.
The Truth: You grow to like people for whom you do nice things and hate people you harm.
4. Why would otherwise intelligent and successful business owners join religious cults? Why would they do obviously irrational things? I think it could be explained by…
Confirmation Bias
The Misconception: Your opinions are the result of years of rational, objective analysis.
The Truth: Your opinions are the result of years of paying attention to information which confirmed what you believed while ignoring information which challenged your preconceived notions.
5. Why would business owners use the words, "I knew that" when exposed to information they obviously didn't know? And why would they justify past behaviour in the light of new knowledge that negated the validity of their previous choices? This would explain it…
Hindsight Bias
The Misconception: After you learn something new, you remember how you were once ignorant or wrong.
The Truth: You often look back on the things you've just learned and assume you knew them or believed them all along.
Understanding ourselves and objectively evaluating our business choices makes it easier to succeed. As a coach, I help my clients make better decisions and stay on track, to higher sales and profits.
If you like the above, read more in this exceptional article by David McRaney